8/10 per person

3,5 hours

Guide and E-bike included

# MEETING SUNDAY - 9.00 am (morning)
The itinerary is medium-easy, about 25 km long; Meeting point on Sunday at 9.00 in Dorgali from the car park of the Barbagia hotel and at 9.30 in Su Gologone See meeting point on Google Maps.
# DEPARTURE - Morning, 9:00
Meeting point on Sunday at 9.00 in Dorgali from the car park of the Barbagia hotel. After the transfer near the su Gologone spring, the mountain bike tour begins, which along dirt roads leads to the Lanaitto valley.
Along the way there are several caves used since the Neolithic, an old lime factory and the aqueduct. The Lanaitto valley is a very fascinating place, rich in history and with breathtaking nature. It is very natural, with holm oak woods and grazing meadows; only in the initial section was the appearance changed by a project, carried out in the 1970s, for a botanical garden of which only a beautiful avenue lined with pine trees and a vast olive grove remain.
After a few kilometres, you arrive at the sa Oche refuge where you can refresh yourself with a cold drink and, for those who wish, visit three sites: the Nuragic village of "Sa Sedda e sos Carros", which contains a beautiful temple dedicated to the cult of water; the cave of "Sa Oche" from which in some moments of exceptional rain a river of water comes out; the cave of the notorious bandit Corbeddu inside which, in addition to the bandit's signature, you will be able to see the excavations that have brought to light the oldest human remains in Sardinia dating back to 16000 BC The Tour then continues on a circular route inside the valley, during which you can enjoy the splendid play of light and shadow created by the holm oak forest.
Having crossed the valley, you go back, admiring the beginning of Lake Cedrino and the imposing basalt columns of the Gollei plateau from above. So yes, the tour ends with a visit to the crystalline springs of su Gologone, the most impressive in Sardinia with an average water flow rate of 400 liters per second, declared a natural monument. After the visit we set off again in the direction of Dorgali with arrival expected around 2.00 pm.
# ARRIVAL - 1.30 pm (morning)
The duration of the tour is approximately 3 hours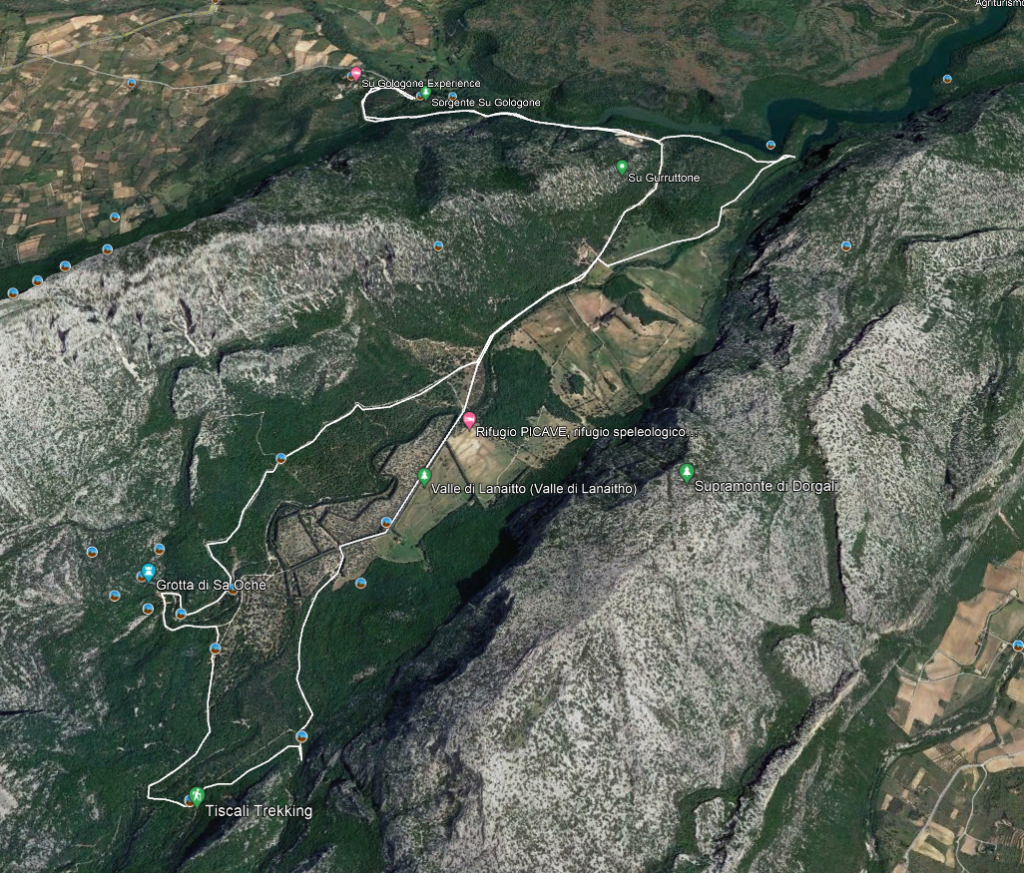 Cala Gonone e Nuraghe Mannu in bici...anzi... con una signora bici. Non andavo in bici da svariati anni e non sono proprio una biker. Alberto, con grande pazienza e professionalità, mi ha seguito e si è accertato che non mi facessi male. Oltre alla possibilità di scoprire ed apprezzare panorami insoliti, abbiamo scoperto anche qualcosa in più sulla storia nuragica. Gli itinerari da lui proposti ed offerti sono molti e tutti interessanti. Assolutamente da provare!
Bellissimo tour con Alberto come guida professionale e simpatico ci ha fatto conoscere scorci meravigliosi di Sardegna raccontandoci aneddoti,tradizioni e storia di questa regione fantastica.Da provare le bici con pedalta assistita ottime sia per principianti come me sia per esperti come mio marito.Grazie ancora Alberto